Roll over image to zoom in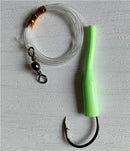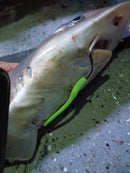 Description
 What's up for grabs?

10 x Masterpro Custom Designed  Snapper Running Rigs
ONLY $2.90 PER RIG FOR BULK SALE!
Octopus Beak Hook Size 6/0 
Quality 60lb Mono Leader
4# Barrel Bearing Swivel
(Running sinker clip and lumo bead are not with our offers they are for display purpose)
Reef & Snapper Runnin
Features include:
Reef & Snapper Running Rig.

Available in a number of styles, hook sizes and attractive teasers. 

When the bite is red hot and you don't have time to tie a whole rig make sure you have a variety of pre tied rigs to snap onto your mainline. 

Perfect for Snapper, Gummies, Mulloway, Flathead and many other species both big and small. Match your hook size to your bait and target species.

Can be used Landbased and off the boat. The beauty about a Running Rig is that the fish can take your bait without feeling the weight of the sinker giving you the best opportunity for that fish to swallow the hook instead of being spooked by the drag of the sinker. You can use these Rigs with no sinker and let your bait slowly sink down through the water column in less tidal areas, you can add a variety of weghted ball sinkers to your mainline or if needed add anything upto a 20oz sinker with a running sinker clip on your mainline when fishing those hard flowing tidal waters. Always use as little weight as needed in your situation and location.

Why buy from us?
We have the lowest prices for fishing tackle online.
We make all of the products ourselves so we know it's the best quality tackle around.
We are not just on-selling tackle from overseas like other companies. We actually make it!
We get fisherman from all over Australia to test our products. They love it or we change it.
We offer free shipping on every order.
We offer a 30 day money back guarantee.
Who the bloody hell are we?
We're Australia's best wholesale priced direct to public fishing tackle superstore.
We're local to Melbourne but we supply fisherman all around Australia.
We offer a large range of bulk fishing tackle supplies including fishing hooks, lures, rigs, sinkers, terminal tackle (line, swivels, floats, beads, tackle snaps), fishing tackle boxes and bags, fishing accessories (nets, tools, anchors, rod holders, berley cages, clothing) and a range soft plastics, squid jigs, poppers, and metal fishing lures.
Payment & Security
Your payment information is processed securely. We do not store credit card details nor have access to your credit card information.