Roll over image to zoom in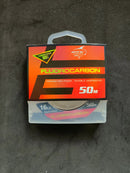 Description
These 100% Fluorocarbon leader features: Fluorocarbon Leaders are made with excellent knot strength, strong abrasion resistance, low stretch, doesn't absorb water, sinks quickly and is totally invisable underwater.
8 LB dia 0.20 mm 50m
10 LB dia 0.23 mm 50m
16 LB dia 0.31 mm 50m
30 LB dia 0.52 mm 40m
40 LB dia 0.61 mm 30m
50 LB dia 0.66 mm 30m
Payment & Security
Your payment information is processed securely. We do not store credit card details nor have access to your credit card information.